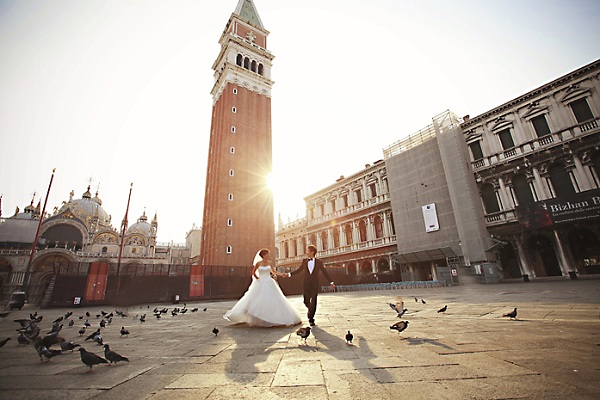 27 Sep 2014

10 Best Blogs about Italian Weddings

Italy has always been a dream destination for couples planning to tie the knot. Wedding venues in Italy are aplenty and include such age old favorites as Venice or Tuscany.

Planning a wedding in Italy though requires time, effort and local knowledge. But fret not! To assist you in the process we have reviewed some of the 10 best sites / blogs that may help you in arranging the perfect Italian style wedding.




Perfect Italy Wedding
Perfect Italy Wedding is a multiple award winning site providing wedding planning services online. The site is hosted by a Californian girl who visited Italy years ago and fell in love with the country. She personally plans and supervises the Italian weddings arranged at different venues throughout the country. She also employs the services of professional photographers to cover the memorable occasion.
My Italian Wedding
If you are planning a wedding in Italy then consider contacting Stefania and Sylvie to delegate the work of arranging everything and only visit the country to exchange the vows and enjoy your honeymoon. The owners of this business are native Italians but are proficient in other languages, particularly, English. They have a suggested list of wedding venues in Italy for you to choose from.


Exclusive Italy Wedding
Laura Frappa, the founder of Exclusive Italy Weddings, is passionate about what she does and makes the best effort to arrange dream weddings in Italy for her customers. She and her staff ensure that all the paperwork for civil and church weddings, transportation, stationary, décor and floral arrangements, food and wine are ready in time for the ceremony to take place without any hassles.

Italian Wedding Event
Federica Nascimben's blog publishes latest news, shares tips and informs customers about ongoing offers and discounts for Italian weddings. She even provides tips on writing 'your own vows and speeches.' Those who are interested may use the online chat option of her site to gain valuable insight on arranging an Italian style wedding.


OMG I'm Getting Married
If couples are searching for some refreshing ideas or themes for their upcoming wedding then this is the place to look. The site lists many stories and photographs of those who got married recently. However, the blog is not exclusively dedicated to the weddings that take place in Italy.
My Secret Italy
My Secret Italy is being maintained by Julie since 2002. She constantly keeps the proposed list of venues for a dream wedding updated. In the process she has created an extensive list to tip you off about that exceptional beach side location of opulent palazzo not familiar to many.


Tren di Nozze
This is a bilingual blog maintained in English and Italian by Laura. She arranges customized wedding parties suiting your taste and necessities. From planning the hairstyle for the blushing bride to conceiving the culinary experience for the invitees nothing escapes her attention. She strives to provide the best possible experience for exclusive Italy weddings.
La Weddy
Online since 2011, this blog is run by Weddy, the wedding planner, PR and an editor of a seasonal magazine, The Friday Project. She posts articles focused on such unique topics as crafting DIY novelty items for decorating the venue, preparing handmade invitation cards etc. Ample information about exclusive locations for the actual wedding to take place and enjoy honeymoon later are shared on a regular basis.


Wedding Wonderland
Selena's 'wonderland' aims at sharing ideas for creative yet intimate wedding experiences with everyone. Besides inspiration for authentic Italian style weddings, her blog houses tutorials for crafting such items as fabric flower, handmade invitation cards and many other items for the special occasion. Her elaborate ideas for decorating the venue are worth a visit.


Sposiamoci Risparmiando 
Rebecca, the wedding blogger, covers the general topics, including, makeup, catering, coordination, shooting and other parts of the program. She provides advice on the etiquettes to be followed by the prospective bride and bridegroom during the course of the ceremony and afterwards. Since she is not a regular wedding planner expect to be surprised reading her insightful articles and suggestions.
Weddings organized by Ville in Italia
Ville in Italia is also able to provide "tailor-made weddings" in the most exclusive Italian destinations and venues. For more information visit Ville in Italia's website or contact us here:
Tel +39­ 055­ 412058
info@villeinitalia.com