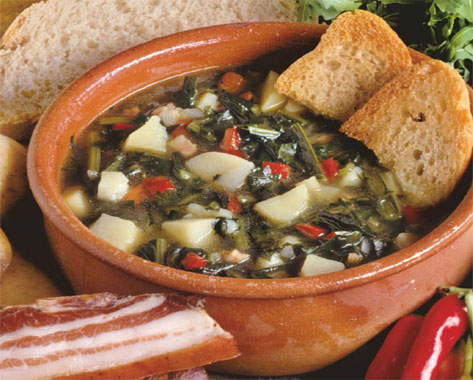 31 Dec 2013

Tuscan soup: Acquacotta Recipe

Winter is approaching and it is time to turn on the stoves, wear heavy sweaters and spend increasingly shorter days with loved ones. There is nothing better
than beating the cold grey winter days with a warm bowl of Tuscan soup.
To prepare it, we will take advantage of the help of a dear friend from Ville in Italia. Her name is Roberta Paris, food lover and Tuscan born and raised, who enchants and delights Italians (and not only!) with the recipes from her blog called The Dreaming Seed.
With this traditional Tuscan recipe, she describes her experience.
It's a sunny afternoon.
I spend some time with my parents.
It's one of those rare midweek occasions where none of us have anything urgent to do.
And so I leave early from work and meet them in the countryside along a path.
Mission: for them it's to teach, for me it's to learn to recognize some wild herbs.
We spend two hours of peace and well being, with the wind on our faces, sun on our shoulders filled with delighted as well as blessed chatter and silence. It is the three of us, the fields, the croaking frogs, chirping birds and nothing else.
My mother finds the chicory, and I, obedient and diligent as ever, learn to recognize it, pick it and clean it. In that moment it seems as if my grandmother, whom I remember coming back home happy with her loot of herbs, was there and would embrace with satisfaction her daughter and grandchild. The beautiful thought makes me a little emotional.
We get back home with full bags. We also picked wild chard and fennel, enough to give some natural goodness to friends to use for three or four meals.
And while we're at it, I will have them teach me the traditional Tuscan recipe of Acquacotta with chicory.
It is a charming but poor and simple dish. Very few ingredients are needed: chicory, stale bread, a tomato, an egg and a little bit of Pecorino cheese. It is a single dish that would feed the numerous countryside families between southern Tuscany and northern Lazio. It has an amazing and unexpected taste given the simplicity of the ingredients.
Making it even more special is its ancient origin, its ritual, its passing from generation to generation, even until today up to me. Believe me when I say that this time, to the original recipe, I did not change a thing…not even a comma. I wanted it to be the original recipe, the one that my mother makes, the one that my grandmother used to make, as well as the one that my great-grandmother would boil in the fireplace.
Time required: One hour and a half
Ingredients for 2 people:
A few tufts of wild chicory
1 garlic clove
½ onion
2 eggs
stale bread (sourdough white bread without salt, typical of our area, would be ideal)
1 tablespoon of tomato sauce
vegetable broth
salt and pepper as needed
extra virgin olive oil
Pecorino Romano Dop (PDO)
Thoroughly clean the chicory by removing the damaged leaves but leaving the tuft whole.
Wash, drain and boil it in water for 4-5 minutes.
Sauté the whole garlic clove and the chopped onion in a tablespoon of olive oil in a casserole or better yet, in a terracotta pan.
Once these become translucent, add the tomato sauce and stir for 2-3 minutes. Then add the boiled chicory.
Continue mixing for a couple of minutes and then add warm broth.
Cover the pot and cook on medium-low heat for about one hour.
After this time, add salt if needed.
Now add the eggs one at a time into the boiling soup, as you would do for soft-boiled eggs.
Serve the hot Tuscan soup on a bed of stale (or toasted) bread, completing each dish with an egg, a drizzle of olive oil, a pinch of pepper to taste and a generous sprinkling of grated Pecorino cheese.