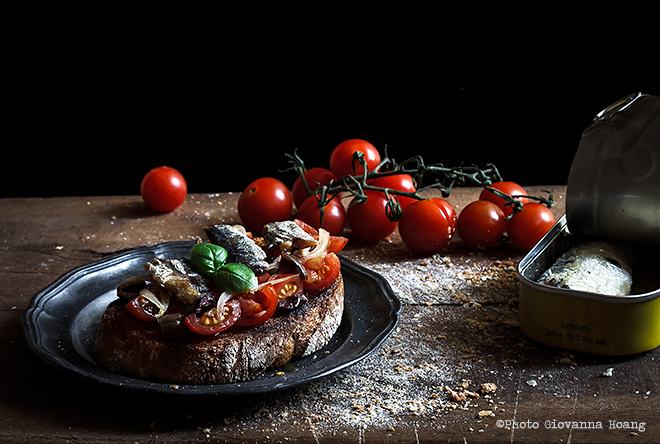 25 Apr 2014

The original Italian recipe: Bruschetta marinara

She describes herself as "a small Vietnamese girl raised in Italy who loves to live life in all its colourful shades, bitter and sweet, while trying to give value to even the smallest and simplest things".
For us at Ville in Italia, she is a special blogger that has extraordinary talent, but not only in the kitchen. Apart from ladles, pots and cookers, her winning skills surely include a pen (or a PC keyboard) and a camera. But we will let you be the judge by presenting the recipe for this tasty "Italian bruschetta". And if that's not enough, check out her personal blog on Likeeat.it that has an Italian-Vietnamese "fusion-style".  Her motto? "It's only a matter of taste".
Here is the "Bruschetta marinara" by Giovanna Hoang:
Although I've been living in Italy for the past 30 years, there are many places of the Bel Paese (beautiful country) that, alas, I have not had the pleasure of visiting.
But if there were the possibility of taking off today, as a destination I would choose the charming Amalfi Coast, suspended over the cobalt blue sea adjoined by wide valleys and promontories, cultivated terraces of citrus fruits, vines and olive trees as well as beaches and coves.
I would let myself be seduced by these enchanted places, which present themselves as "a blessed corner of the earth where one can hear the echo of the sirens' sweet song".
I would walk amongst its many alleys to discover panoramic views that hide beautiful churches adorned with majolica domes.
I explore to discover its fishing villages, listening and enjoying the stories of old local fishermen and then go in search of the housewives of the past, who are the custodians of the culinary traditions, to learn their secrets.
However, for now I can only dream and while waiting for all of this to happen, I cook and think of the smell of the freshly caught fish, of the sun-ripened tomatoes and of the pressed olives that bring to the table a genuine and Mediterranean bruschetta marinara, just like these lands!
Ingredients for 4 people
4 slices of homemade bread
1 tin of sardines in oil
1 bunch of cherry tomatoes
1 sprig of basil
1 clove of garlic
Onion
Extra virgin olive oil
Salt and pepper
Directions
Toast the slices of bread on both sides by grilling them in the oven or on a non-stick pan.
In the meantime, mix the thinly sliced onion and the cherry tomatoes cut into 4 and toss with olive oil and a pinch of salt in a bowl.
Once toasted, rub the slices of bread with a garlic clove and garnish with a generous spoonful of cherry tomatoes with onions, half of a sardine per bruschetta and a basil leaf. Sprinkle the bruschetta with a little bit of oil and add freshly ground pepper to taste.