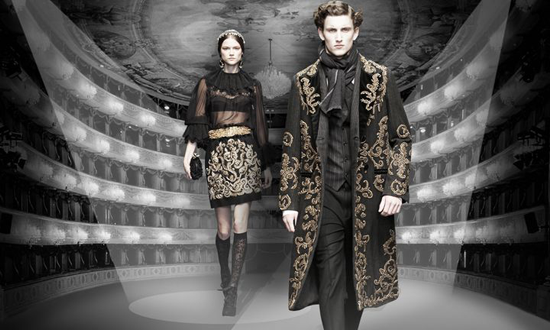 02 Mar 2015

Dolce & Gabbana at La Scala

Dolce & Gabbana at the Teatro la Scala: the temple of opera had never hosted a catwalk show before but, at the end of January, the famous designer duo presented their haute couture collection for the spring-summer 2015 season in the foyer of the famous opera-house in Milan.

This exceptional, maximum security event for the chosen, very rich, privileged few – it seems that several Russian clients and buyers attended, including Muscovite top buyer, Alla Verber, of the Mercury Group – was a dream come true for Domenico Dolce and Stefano Gabbana. As expected, the theme of the catwalk show (which showcased 64 garments, all exclusives, complete with precious jewels) was a tribute to art.
It was a show that blended fashion with dance. In fact, the catwalk show was interspersed with a ballet in 4 acts danced by the etoile of La Scala, Roberto Bolle, and many of the models presented were inspired by stage costumes.
Three dancers from the Ballet School evoked three key moments in Roberto Bolle's career : his arrival at the academy aged 11, the meeting at 15 with Nureyev who chose Roberto to dance with him in the role of Tadzio in Death in Venice, and the diploma at the age of 19 which threw open the doors of the La Scala Ballet for him. The music used was the waltz from Tchaikovsky's Nutcracker and the Dance of the Knights from Prokofiev's Romeo and Juliet.
"We are proud to be Italian", repeated the fashion designers, who had been allowed by the director of the Theater, Alexander Pereira, to do something that no designer had ever been allowed to do before and may never be again. The price paid? The proceeds will be used to fund scholarships for young dancers at La Scala's ballet school and for ballet scenery.
With this event the fashion designers most loved by international stars – Lady Gaga, Madonna, Scarlett Johansson and Monica Bellucci all wear Dolce & Gabbana – were able to show off their creativity in the place where Enrico Caruso, Beniamino Gigli, Maria Callas and Luciano Pavarotti sang…
Milan is their city – At the Sartoria Dolce & Gabbana, on Via Bixio, eighty or so tailors and dressmakers give shape to Italian creativity. No computers, everything is done by hand, from the invitations to the invoices. There are all the tools of the dressmaking art: from yarns to buttons to mannequins to sewing machines to embroidery frames to irons. It takes 200 hours of work to make one garment, a team of seven people working for one week. Even the furnishings and the paintings in the Sartoria celebrate Italian creativity: pieces by Giò Ponti, Venetian tapestries by Luigi Bevilacque, coffee tables by Duilio Bernabè, paintings by Rotella…