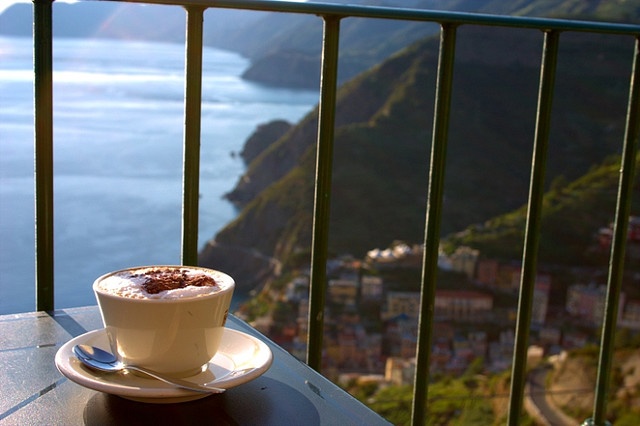 17 Feb 2014

Italian coffee in luxury villas: an espresso way of living
Coffee, or the simple act of sitting around a table chatting over a cup of a pure Italian coffee brew, is an integral part of Italian culture just like wine or the famous Mediterranean cuisine.
Coffee is an essential ingredient of almost every Italian social congregation. The rich Italian coffee tradition is well demonstrated by the region's wide assortment of coffee brews such as cappuccino, macchiato, espresso, and lungo among others.
This is a culture best experienced in many of Italy's outdoor restaurants and cafes or in a relaxed atmosphere of a panoramic rural or urban villa. Here are a few examples of fine Italian villas.
The Villino Liberty villa is located Serento along Almafi coastline. The villa provides an exceptional opportunity to taste the true Italian Dolce Vita experience surrounded by antique carefully-tended gardens of century-old trees and rare palms.
It is a great place to simply sit back and sip your aromatic cup of Caffè Italiano in front of the breathtaking view of Mt. Vesuvius and the endless sea.
The uniqueness of Italian coffee can best be experienced in a serene location such as the Villa Camilla near Lake Maggiore in Stresa. The villa lies on the splendid and undisturbed hill slopes of the Stresa municipality overlooking the Borromean islands of Bella, Madre, and Pescatori.
The hilly layout of the Villa Camilla provides a unique scenery best enjoyed with a cup of pure Italian espresso or ristretto coffee. It is a great get-away location with a warm atmosphere and stunning views.
A great way of experiencing the warm Italian lifestyle is by trying out the true taste of caffè italiano while chatting with friends in a well preserved vintage cottage or villa.
A fine example of vintage Panoramic Villas in Italy is the Villa Vassena located in Vassena along the Lake Como coastline. The villa dates back to the 1900s but with all the latest technological innovations such as satellite T.V, wireless internet connections, and other modern facilities including barbecues and, of course, a coffee maker.
Villa Vassena provides a perfect opportunity to enjoy your rich brew of Italian coffee from one of the villa's balconies with a stunning view of Lake Como.

Santa Sofia
Landscape in Italy has remained undisturbed in most parts of the country.
For example, in Venice, the undisturbed beauty of Italian landscape can be explored from the comforts of Santa Sofia villa, which provides a splendid view of Canal Grande and other magnificent features while you savour a cup of true Italian coffee from a safe balcony. Santa Sofia villa is located in the Cannaregio district close to the SS Apostoli church and the Rialto Bridge.
The rich Italian coffee tradition can best be experienced by sampling different varieties of cultural brews such as macchiato, cappuccino, lungo, espresso and ristretto in a lively convivial atmosphere.
In Florence City, Tuscany, guests can sample different types of coffee in the prestigious villa located in the old section of the city. The villa is renowned for its rare terrace overlooking the old city's attractions such as the Brunelleschi cathedral's dome and the bell towers of Florentine churches.
It is the ideal place to explore Italian art treasures and varied traditional brews of coffee in Italy.