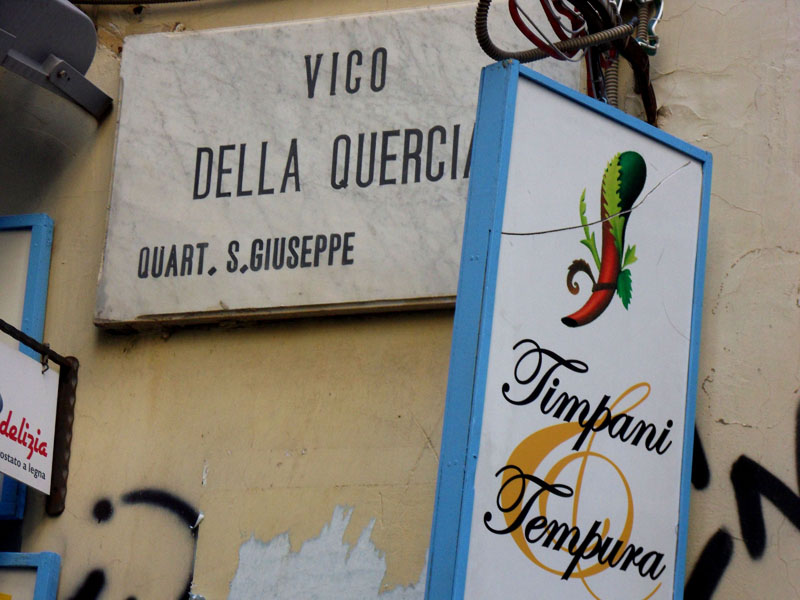 29 Apr 2014

The culinary passion of Giacomo Leopardi: when food is poetry
In Italy you can breathe the poetry even in the alleyways of central Naples: not just the poetry of street life, its smells, its food and its people (which would already be a lot), but also the poetry left by the imprint these places preserve of Giacomo Leopardi, the most celebrated poet (and philosopher) of Italy's nineteenth century, not to mention one of the most important figures of world literature.
At No. 9 Vico della Quercia, you can find a tiny shop-restaurant, "Timpani e Tempura", a 'little temple' of Neapolitan street food in the city centre. The chef and owner, Antonio Tubelli, is also the author of the book "Leopardi a tavola" ("Leopardi at the table"), written with Domenico Pasquariello, following a careful study into the private papers of the "Zibaldone" (the personal diary that includes a large number of the poet's thoughts).
Sure enough, Giacomo Leopardi had a great passion for Italian cuisine. Or perhaps we should say 49 passions: such were the number of dishes that he so carefully listed (just as he was inclined to do with his philosophical thoughts). And many of these you can still taste today, at the very same "Timpani e Tempura".
Antonio Tubelli highlights the poet's fantastic gluttony, a curiosity with regards to food and life, that took him on his travels pursuing the cultural agitations of the time: from his native Recanati, the Marches town on the eastern side of central Italy, to Milan, Bologna, Florence, Pisa and finally to Naples, precisely the setting, says Tubelli, for this culinary joy.
Leopardi arrived in Naples following a friend that he'd met in Florence, Antonio Ranieri, where the latter had been exiled along with a cook, Pasquale Ignarra, who would become Leopardi's private chef at Villa Le Ginestre in Torre del Greco, "a home in the wonderful countryside at the foot of Vesuvius, that now belongs to the 'Ville del Miglio d'oro' – that stretch of road running from Naples to the Reggia di Portici, peppered with splendid aristocratic houses.
It's here that a figure decisively more dynamic than the poet, famous for his cosmic pessimism and remembered for his fragility and suffering, emerges from Tubelli's words (just as he does in a recent film production "Il Giovane favoloso", which we expect to see at an international film festival in the near future).
"In letters to his sister, Leopardi talked about the well-being he found in good food, and how it must also have been connected to where he was living. In fact, Torre del Greco was renowned for its healthy air and particularly recommended for those with breathing difficulties," Tubelli explains.
But often Leopardi would willingly leave Villa Le Ginestre to head into the alleyways of Naples' centre: "he defines Neapolitans as 'mangiamaccheroni' ('macaroni-eaters'), a highlighting of the local customs that proves he used to visit the food outlets on the street, where even the lower classes could eat macaroni – a perk which was the preserve of the nobility at that time.
And then there was his remarkable thirst for sorbets, which he enjoyed in a bar in Piazza Carità (near to where you'd find the historic ice-cream parlour 'La Scimmia' these days): he used to order more than one at a time so he could taste them all together. He was also mad about confetti cannellini di Sulmona – a type of cinnamon sugared almond from an enchanting town in the centre of southern Italy, so-called because of the sliver of cinnamon inside.
The dishes mentioned by Leopardi aren't just Neapolitan ones: "his list is a short summary of Italian gastronomy," Tubelli continues, "there's tortellini, ravioli, timpani di magro (a low-fat pasta dish)…" The book also contains some of the recipes for 'Leopardian dishes' that Tubelli has 'deduced' from the list compiled by the poet, and that he now offers in his restaurant.
The timpani, for example – "a southern term that indicates the timballo (a speciality with an oven-cooked dough base), it is typical street food because, since it can be cut into slices, you can eat it with your hands".
And in his shop Tubelli always invites customers to get rid of their forks, "so something can be retrieved from the fundamental ancestral, carnal relationship that you should have with food, which is, instead, a relationship that's always controlled from immediately after breastfeeding onwards."
The term "Tempure" would appear to lead us to Japan, but Tubelli surprises us by explaining that it is originally from Latin, coming from "Tempora", which were the periods of abstinence across the ecclesiastical calendar: "it's a dish of monastic origin. During periods of abstinence the monks probably invented this type of fried food so they wouldn't have to eat boiled vegetables all the time. It was the Portuguese Jesuits who exported it to the Orient. And it's for this reason that I chose this second name, which reminds us that Naples is the great capital of the south, where the most diverse cultural and culinary traditions coalesce from time immemorial."