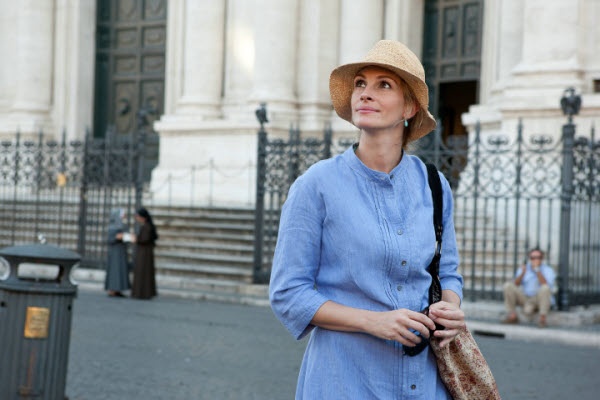 21 Feb 2011

Julia Roberts' Italian dolce vita – Eat, pray, love

Three rules of life to learn when you are traveling, in three very different locations: it sounds like the latest trend from one of the more glamorous travel agencies, instead it is "Eat Pray Love", the movie directed by Ryan Murphy, starring Julia Roberts, recently released in movie theaters all over the world.

The movie, based on Elizabeth Gilbert's novel "Eat, Pray, Love: One Woman's Search for Everything Across Italy, India and Indonesia", is the story of the writer's journey around the world following a painful divorce.

Three places helped Gilbert to find herself again: whilst India is where she rediscovers her spirituality, and Bali is the island where she falls in love, the country dedicated to the pleasures of the good life and the joys of excellent cuisine could only be Italy.

The protagonist, Liz, stops off in Rome (the movie was filmed in the center of the capital and at Villa Borghese) and Naples where, in addition to the city center, Liz also visited the Pio Monte della Misericordia, and contemplated the famous painting by Caravaggio "The Seven Works of Mercy".

No visit to Naples would be complete without a trip to the Pizzeria "da Michele" which, like Julia Roberts, Elizabeth Gilbert was also crazy about.

Art, beauty, wonderful food and local guides that become lifelong friends: you could be forgiven for thinking that her whole search could have taken place in Italy alone!

The movie was filmed between August and September 2009, and during that time, Julia Roberts decided to stay in the peaceful hills surrounding the quiet town of Viterbo. A magical and mysterious land, situated between Tuscany, Lazio and Umbria, this was the cradle of the Etruscan civilization.

Julia Roberts' Italian home (where she stayed from 23rd August – 13th September) was Villa Pianicara, a place of particular historical interest, which has belonged to the current owners since 1700.