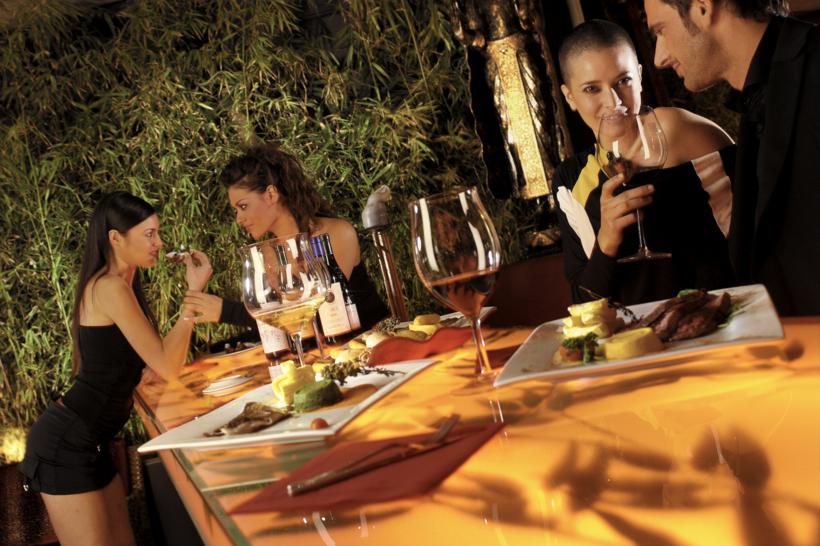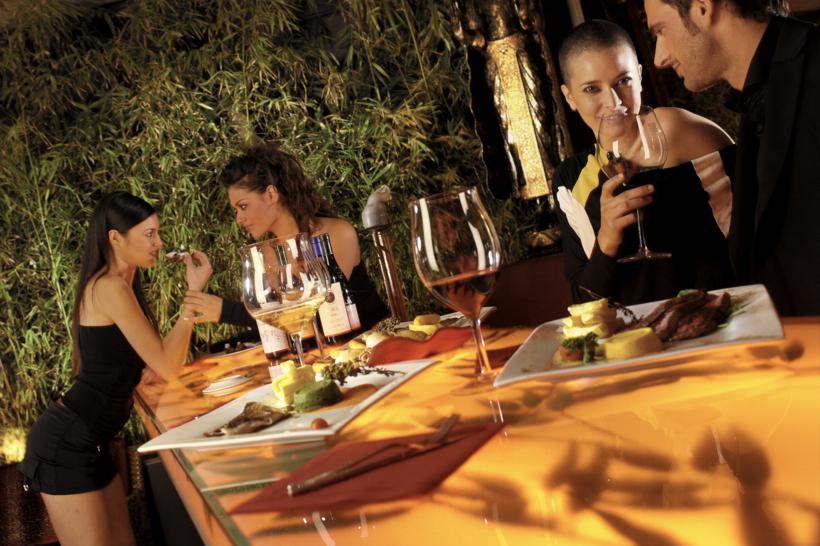 09 Sep 2014

Italian aperitivo: Top 15 Luxury Bars in Milan

The aperitivo experience is a major aspect of Italian tradition.

Traditionally, an Italian aperitivo is actually a pre-meal drink taken as an appetizer. Having an Italian aperitivo has become a common ritual where people meet at a bar to partake alcoholic or non-alcoholic beverages with small bites of olives, nuts, cheese, crisps and other similar snacks. In the last years it has slowly replaced the whole dinner process, since many bars in Italy offer, during the aperitivo time, buffet Italian food including pasta, pizza, mozzarellas and may other delights!
But where do you find the best aperitivo bars in Italy?
The city of Milan, in Lombardy and near the famous and beautiful Lake of Como, is undoubtedly the centre of aperitivo tradition. Restaurants and bars in Milan serve aperitivo drinks between the 7 and 9 P.M, when you can relax and unwind after an eventful day of visiting numerous Milan attractions. An aperitivo is also a good starter if you are planning to explore the vibrant Milan nightlife.
Here are some of the best luxury bars where you can have an excellent aperitvo in Milan.


The Bulgari Bar is one of the most luxurious bars in Milan with beautiful outdoor and indoor settings. It is located inside the Bulgari Hotel at the centre of Milan close to the Academia di Brera. Enjoy the bar's aperitivo made of great cocktails and savory bites between 6.30 and 9.30 in the evening.
If you are looking for the best aperitivo in Milan visit the ATM Bar located at Bastioni di Porta Volta. The design of the bar has a international touch which you can see, for example, in the huge terrace (more than 300mq), completely rebuilt in an eco-sustainable prospective. The bar has tasty appetizers every day in an area with a vibrant nightlife and entertainment in Milan.
Located at Corso Garibaldi in Milan, the Radetzky bar has some of the most innovative cocktails and aperitivo drinks such as Spritz, Martini cocktails, and Negroni. It is the place to be for the best aperitivo in Milan between 8 P.M and 1.30 A.M.
Pandenus bars at Corso Concordia, Via Alessandro Tadino, Largo la Floppa and along Via Melzi D'Eril in the city of Milan have special evening aperitivo and snacks every day. The bars' cellars have a wide selection of the best Italian aperitivo drinks and snacks. It's specialties are sandwiches, flat breads and pizzas.
La Rinascente bars and cafes in Milan are recognized for their great selection of aperitivo drinks and the amazing setting. A fine example is the Moet & Chandon in Milan which is located in a charming location with a view to the Duomo spires. It is perfect for romantic dates or for simply having an aperitivo with friends on a luxury lounge away from the crowd.
Globe Restaurant and Lounge Bar
Located along the Piazza Cinque Giornate in Milan, the Globe serves aperitivo daily from 18.30 to 21.30. The bar has both traditional and innovative cocktails for the best aperitivo Milan can provide. The bar is located in the last floor of Coin shopping mall, and thus it has a magnificent view on the city of Milan. You can choose from a "Rustic" buffet with a wide choice of meats, vegetables, cheeses, pies, couscous, salads, and homemade pizzas and cakes. It is also possible to order raw fish tartare plates or oysters. The cost includes the drink and the wide buffet.
The word Obika simply means "here it is" and is used in this case to describe a mozzarella or cocktail presented before your own eyes. Founded by Silvio Ursini, the Obika bar in Milan is renowned for its nice ambience, great mozzarella, and large cocktails served during the aperitivo hours.
La Terrazza is located along Via Palestro in Milan overlooking Porta Venezia's gardens. It has the best selection of champagne and Italian wines to make the best aperitivo in Milan. From the bar you can see a wonderful view of Milan Cathedral. Breathtaking!
The Palco always stays open from morning up to late at night. You will find it behind the Piazza della Repubblica in the heart of Milan. If you are looking for a nice and decent place to have an aperitivo in Milan with great views of the city, try Palco.
Located along Via Procaccini in the city of Milan, Roialto is an impressively furnished bar with a prestigious Cuban bar counter with an extensive selection of drinks and snacks. Roialto opens at 18.00 with drinks and food at the highest level: ten gourmet corners, managed by ten different chefs, where you can taste all original Italian food and wine until 23.00. The evening then continues with DJ sets or live concerts. It is a great place to explore the real aperitivo culture in Milan.
Enjoy a unique combination of Japanese and traditional Italian cuisines at Bento Sushi Restaurant in Corso Garibaldi in Milan. The restaurant's bar is a warm and welcoming meeting place where friends converge in the evening for great aperitivo tastes.
This is one of the best lounge bars in Milan. Sophisticated and minimalist chic, Ricci Milano lounge bar welcomes guests in an refined designed environment with pure and essential lines and provides a perfect opportunity to enjoy ambient background music played by the resident DJ under warm light spots for hours, while you sample an assortment of refined champagne and food.
Located at the centre of Milan, the Lyr restaurant's bar provides a great opportunity to explore the rare blend of Lebanese, French, and Italian cuisines and wines. It is one of the renowned Restaurants in Milan with a great aperitivo culture. The refined and appealing cooking make the discovery of the menu a treat for all the 5 senses, not just for the palate.
Situated inside the Sheraton Diana Majestic hotel at Viale Piave in Milan, the H Club Diana is the place to be when you want to meet with friends for an aperitivo or simply to unwind before dinner. People usually go there to enjoy its buzzy atmosphere and extensive drink menu, and to meet up with the movers and shakers of the local fashion and art worlds. It is a great place also to relax in the evening while enjoying a special cocktail.
Nottingham Forest Cocktail Bar

This is a highly acclaimed cocktail bar located at Viale Piave in Milan. Thanks to its innovative and creative drinks, it was ranked among the world's 50 greatest bars by the Class Magazine of London in 2008 and among the 7 best bars in the world by New York's Food & Wine magazine in 2009. For sure, a can't miss aperitivo in Milan!