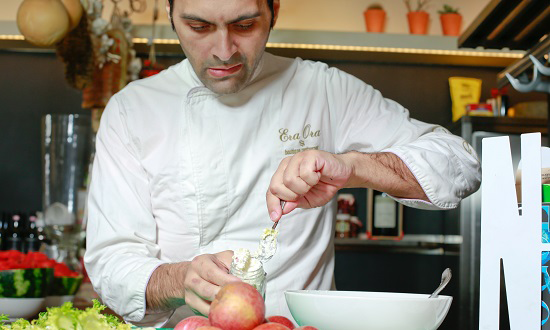 02 Feb 2015

Pietro Parisi, the Farmer Chef who is bringing the flavors of Campania to the world

Palma Campania is a small village in Southern Italy, between Naples, Avellino and Salerno, a tiny dot that shines, however, on the map of Italy thanks to the talent and creativity of Pietro Parisi, a young chef who was born here and where, in 2005, he opened his restaurant, Era Ora, where stars and heads of state have sat at his tables, from Nicolas Sarkozy, accompanied by his wife, Carla Bruni, to Hugh Laurie, the star of "House".  Pietro is also known as the Farmer Chef  because, in his dishes, he uses produce from his own land, a very fertile area situated between the Avellino valley and the valley of Vesuvius, the Terra Felix of Campania as it was defined in the 80s, when it was one of the biggest producers of walnuts, hazelnuts and, above all, vegetables cultivated by the farmers that Pietro knows personally.

"They get together every morning in the big farmers' market in Sarno, which I call 'my Wall Street': looking at it every day you realize that there are still some marvelous people and things which are hidden from most of us on this earth.
These people arrive in the morning with produce that they have picked on their plots of land: farmers who own no more than 3,4 hectares, for whom agriculture is, first and foremost, their source of food and their livelihood, more than just a business".  This is where Pietro has his roots: "I have always been a countryman, I grew up surrounded by fields of tomatoes and hazelnut trees, my grandmother was a very simple farm worker, I learned to appreciate the simplicity of food from her".
In order to fully understand its true value, however, for a long time Pietro had to leave his homeland: always driven by his love for food, at a very young age he began working with the biggest names in international restauranteuring: from Gualtiero Marchesi, with whom he did a period of work experience at the age of just 14, to Alain Ducasse, with whom he worked from age 18 to 25, traveling around the world (Paris, Switzerland, Denmark and Dubai, where he also worked in the famous 7 star hotel "Burj Al Arab").
But, in the end, we always return to our origins, or rather, to where our heart lies:
"When you work in great luxury restaurants, you lose a little of the taste of simplicity and I missed it a lot.  Above all, I missed having direct contact with the person who does the producing, the shepherd, the breeder …And I wanted to give my contribution to making my land feel proud.  So, after traveling around for 10 years, just when I was about to set off for Wellington, my parents asked me to stay, suggesting that I buy an old, almost bankrupt pizzeria.  I said yes, and we bought it at the end of 2004."
And that was how he came to open Era Ora on January 26th 2005: "Over the years I have had to revise my professional journey and even be slightly 'humiliated' by the locals who were not used to gourmet cuisine.  As a young chef who came from Ducasse, I had a lot of determination and a great desire to make myself seen, but I had to take a step backwards and return to the simplicity of my grandmother's cooking".
Ducasse's techniques 'slipped into' grandma's recipes: that is the secret of Parisi's dishes, like his Parmigiana di melanzane steamed in vacuum-packed hermetically sealed jars at 80 degrees for 3 hours, avoiding the need for frying and thus keeping the flavors of the land intact: "it is a kind of identity card of these places, inside there are San Marzano tomatoes, Agerola fiordilatte cheese and eggplants that have been grown locally."  An 'identity card' that has also allowed this dish to 'fly' on American Airlines, on whose menus it featured as an excellent Italian recipe.
This idea of cooking in vacuum-packed jars has led to another, the Boccaccielli, more hermetically-sealed jars in which Parisi has placed what he defines as "the itinerant recipes of Neapolitan tradition which, since they can be preserved for 180 days, can travel around the word, taking the atmosphere and flavors of my homeland everywhere they go".
Anyone who wants to go and meet Pietro Parisi in person, must also enjoy a meal at Nonna Nannina, the delicatessen-tavern that the chef has opened in San Gennaro Vesuviano, his grandmother's hometown, and which he named after her: "at the table of Nonna [Grandma] Nannina you can find the ancient flavors of the 20th century, there are no rich or poor, there is a social menu that costs 8 Euros, and 80% of what you eat is locally produced".
There is a deep and forceful bond between Pietro and his grandmother, who handed down the most precious gifts to her grandson: creativity, a love of sharing, a spirit of initiative:
"The thing I remember most about my grandmother are the fantastic snacks she prepared using what little we had to hand: stale bread which, when softened with water, sugar and lemon, became a real delicacy.  And her love for having fun, the evenings spent sitting round the fire, when we ate "rapini", polenta and sausage, and she told her grandchildren anecdotes and stories about life on the farm". This has led to a book  "Pietro Parisi. A farmer chef, the faces of his land", in which Parisi mixes these anecdotes with photos of ten or so producers and 15 farmers' recipes made using leftovers.