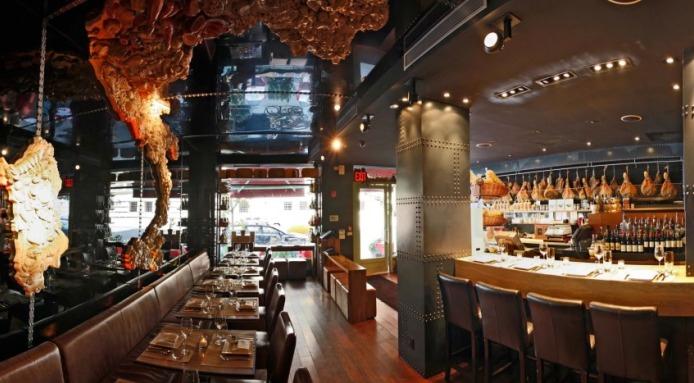 29 Jul 2013

A corner of Tuscany in NY

In conversation with Cesare Casella, a chef on the Upper West Side who welcomes lovers of Italian cuisine and prepares typical dishes following a few simple rules: simplicity, authenticity and respect for the territory.  But, above all, a love for his homeland

"The key to Italian cuisine is simplicity, being able to recognize genuine, quality ingredients and respect for the territory.  Italian food is about culture, geography and history.  They are intertwined.  Italy is such a small country with so much culture that the culture and food are mutually dependent on one another".  This is the philosophy of Cesare Casella, one of the Big Apple's top chefs, as well as dean of Italian Studies in New York and Parma, in charge of the Italian Culinary Academy program at the International Culinary Center in NY.
Lots of small courses that allow you to taste a little of everything: lasagna, steak, pasta all'amatriciana
– there is a bit of every part of Italy in the dishes Casella prepares.  We are in New York, on the Upper West Side, in a luxury "Salumeria" (a store that sells cold meats).  Or rather a cross between a traditional Italian "Salumeria" and a sophisticated restaurant.  We are in the Salumeria Rosi, the result of the partnership between the Rosi family (owners of the Parmacotto brand) and Cesare Casella.  It is a small venue that seats less than 30 people.
Simplicity
"The journey around Italy" it is possible to make through the dishes offered by the "Salumeria Rosi" definitely starts in Tuscany, the chef's homeland.  Cesare was, in fact, born in Lucca, where his family ran a small "trattoria", Vipore, that features strongly in his childhood memories:
"I physically grew up in the restaurant because our home was actually above the restaurant.  That was where I decided to be a chef.  The restaurant kitchen was our own kitchen.  So every day there was something to learn and see, taste, smell…from a young age Italian cooking was in my blood.  My grandparents worked there with my parents – a true family affair.  I was so enamored my whole life with the amount of passion and love my grandparents and parents showed the food that I never looked at food any other way except as something beautiful and sacred."
Cesare Casella's whole career could be seen as a tribute to the great family culinary tradition: he named one of his restaurants Beppe, in honor of his grandfather, of whom he says:
"When I was a kid I spent a lot of time with him and I always enjoyed the lessons he had to teach me about food."
He remembers the first dish his mother taught him to cook, roast lamb, and a special recipe, "rosticciane alla cacciatora", spare ribs in a spicy tomato sauce.  Along with lasagna, pasta all'amatriciana and tripe
It is one of those dishes whose origins are difficult to pinpoint.  It has been very popular since ancient times in Tuscany, and Florence in particular, where it is still greatly appreciated today.  It is prepared by cutting the washed tripe into strips and adding it to a "soffritto" of onions, carrots and celery chopped into little pieces and browned in oil.  Tinned tomatoes are added and it is left to cook until the water from the tripe and tomatoes has evaporated.
There is also a "parmigiana" tripe recipe (typical of Parma), which , after cooking, is served with "grana" cheese.  It is eaten with a spoon and served with broth; vegetables like tomatoes and onions can also be added to enhance the flavor., the most popular dish at the Salumeria Rosi
Authenticity and respect for the territory
Casella's love for his homeland is so strong that he has even tried to recreate a corner of Tuscany in America:
"11 years ago I found a farm in Texas that breeds Chianina cattle imported from Italy.  I bought a few and took them to a farm not far from New York (in Sullivan County), Thanksgiving Farm, a bio-dynamic farm that is part of the Center for Discovery (a center that offers support and services to disabled adults and children).
In the beginning the idea was to get steaks for the restaurant but then I decide to donate all the cattle to the center for the breeding, study and advancement of what I find to be one of best quality meats produced anywhere.  The farm allows the Chianina to roam free in beautiful pastures.  I am very happy to see my Chianina so happy!"
Cesare also has the same herbs grown on the farm that he used to find in his vegetable garden in Vipore because, he admits:
"What I miss most about Italy is being able to step outside to the garden to pick my own herbs or produce… "  In order to feel 'closer to home', Cesare has also placed a rosemary plant on the sidewalk outside his restaurant.
A corner of Tuscany in New York: from Vipore to the USA and back to Cesare Casella's Italy
"The
"trattoria" in Vipore still exists although it is no longer run by my family.  I still own it though, as well as the apartment above it where I stay whenever I come to Italy.  Every now and then I eat at the "trattoria": even though it is no longer how I remember it, it is still the best restaurant in the area because of its simplicity and the magnificent views of the surrounding countryside" .
Whenever he has some free time Cesare "pops over" to Italy: "Every time I stop off in Lucca, where my mother lives now, and in Parma, where the school is located."
And, since last year, he has added another destination to his Italian travels: Sicily.
"I went there last year and, faced with so many marvels that are still so little known, I had an idea: in September I will make a journey, a cooking tour, accompanying 14 of my clients to some of the most beautiful places where they can taste the island's delicious specialties."