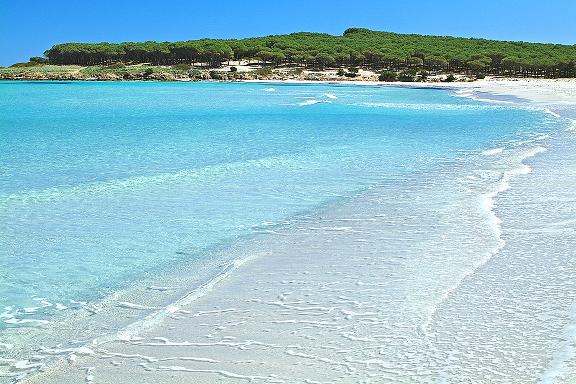 17 Jun 2014

The best of Liguria in 10 photos

When you think about Italy, most people instinctively picture renowned places such as Rome, the Coliseum, the ever Leaning Tower of Pisa; or dishes such as spaghetti, gelato, risotto, and pizza.

While these are all beautiful and delicious Italian staples, there are other places and foods in Italy that are just as wonderful and scrumptious as these.

Case in point: Liguria on the Italian Riviera. Located in the little northern arch of Italy (in other words: above the knee area of the boot!), Liguria is famous for many things.

It boasts great seafood cuisine since it borders the Ligurian Sea; glorious mountain views making this a great tourist attraction, white sandy beaches with crystal blue water give for tourists and natives another reason to visit, and it's famous for pesto.

Yes, pesto was born in Liguria. And Ligurian pesto sauce is nothing like the pesto you've tasted in your country. Ligurian pesto is rich and delicious; a must when visiting this Italian region. You haven't had real pesto until you've tasted Pesto from Liguria.

To get your lips whet, here is the Top 10 list of Liguria. We've compiled pictures of the best places to visit, views to explore, foods to eat, and landmarks to walk by in Liguria. And be sure to visit Christopher Columbus's birthplace. Liguria is just one of those places you'll be happy you visited.

Following are Liguria's Top 10 notables:

Portofino view from sea with boats
Located near Genoa on the Italian Riviera, Portofino is a movie star magnet! Many celebrities flock to this seaside resort town because of its beautiful beaches and sunny skies. Portofino is so gorgeous that a replica exists at the Universal Orlando Resort in Florida.
If you can't visit Portofino in Italy then at least visit it in Orlando. But be warned: visiting the real version in Italy deserves much more!
Cinqueterre sea view

Italian for "The Five Lands," Cinque Terre is a rugged hilltop with cliffs made up of five well-known villages: Corniglia, Manarola, Monterosso al Mare, Riomaggiore, and Vernazza. Once you visit you will understand why this nature-y landscape has been deemed a UNESCO World Heritage site.
This is one you definitely don't want to miss if you travel in Liguria!
Golfo dei Poeti (Gulf of the poets) sea view
Situated in La Spezia, Golfo dei Poeti, or Gulf of the Poets, gets its name from its famous inhabitants from back in the day. Such notable poets include Lord Byron, Petrach, and Dante. These poets lived and some even died here.
If you're into the beauties of poetry, this is a must on your list.
Porto Venere view on colorful houses from the sea
Also located near La Spezia, Porto Venere has also been designated as a UNESCO World Heritage site. Porto Venere boasts many churches, medieval castles, and what was once known as Byron's grotta–The Grotta dell'Arpaia.
Lord Byron was said to have swam across this to meet with the poet Percy Bysshe Shelley in Lerici. Could it be?
Rapallo Beach (Liguria)

Although not as well known as its neighbors, Rapallo is a luxury spot among Italians, almost as Portofino. This is where THEY vacation. Rapallo boasts ice-blue waters and sandy beaches as well as a gorgeous castle which houses temporary art exhibitions.
If you want to live the habits of the locals, then this is the right place!
Sciacchetrà Wine
Born in Cinque Terre, Sciacchetrà is a sweet tasting gem of a wine. Known as vino passito or straw wine, it is made from dried grapes. This process allows for more concentration. And Sciacchetrà Wine has a concentrate of about 10%.
You're fond of Italian Wine? Sciacchetrà is a must to taste!
Festival Sanremo

The tourist hotspot of San Remo, mainly known for its Casinò, is where the annual music festival, Festival della Canzone Italiana di Sanremo (or Sanremo Music Festival), is held. Italian artists flock to this festival to release their unreleased songs in competition format. Italian crooners, Andrea Bocelli and Eros Ramazzotti launched their careers from this festival.
It is also known as "The Pearl of the Riviera of the flowers" for its beautiful flowers and plants, isn't it romantic?
Finalese 

Finalese or Finale Ligure, is a tourist attraction with white sandy beaches in the Levante Riviera. It also houses numerous castles and churches; one of which is the church of Nostra Signora di Loreto, or Chiesa dei 5 Campanili. This Renaissance-style building is one of the most unique churches in Finale Ligure.
This is the place where Italian tradition, history and breathtaking panoramic views merge together!
Genova (Piazza de Ferrari)

The birthplace of Christopher Columbus, Genoa is the capital of Liguria and is rich in history, architecture, arts, music, and cuisine. At night, the city lights up with a massive nightlife and fine dining atmosphere. Be sure to visit the Piazza de Ferrari, and St. Lawrence Cathedral.
Genoa is the right place where to find out the origins of America as we know it today!
Preparing Traditional Pesto 
Pesto! This rich, creamy, green sauce is a trademark in Liguria. In its natural form, pesto sauce consists of crushed garlic, basil and European pine nuts. These three ingredients are then blended with olive oil, Parmesan cheese, and Pecorino sardo.
Pesto is best savored with linguine al dente, you must try them!