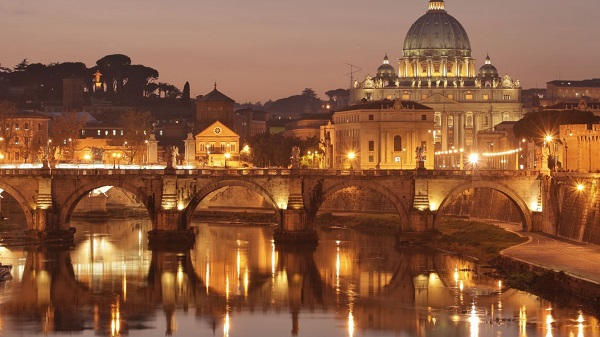 29 Jul 2014

Travel Guide: Rome in 3 days

Rome is one of Italy's most important tourist cities with key historical and religious relevance.

A Rome tour is actually an unforgettable experience of the rich Italian culture, ancient history, a vibrant lifestyle, great Italian cuisines and wines, and a host of architectural monuments across the ancient city.

Like the saying goes, Rome is a city that was definitely not built in one day. It is therefore not possible to see and visit all of Rome's best sceneries and attractions in three, much less one, day.

However, if you are on a short three day break, you do not need to worry. This short guide will help you make the most of your short Rome tour in the most convenient way.

From the airports to the city center

When you visit Rome in a short break, you will need to have initially prepared a comprehensive schedule to cover the best parts of Rome in 3 days. For instance, you need to find the fastest and most convenient means of getting from the airport to your hotel.

No matter where you are flying in from, Rome has one of the most efficient train, bus, or taxi cab transport systems in the world. If you are flying in from within Europe you will more likely land at Ciampino Airport but if you come from far-afield countries such as the US, you will land at Fiumicino-Leonardo da Vinci aiport.
There are several ways to get from the airport to your accommodation. If you land at Ciampino, you may opt to use the train since there's a station at the airport. Trains depart from the station every 30 minutes and usually take 15 minutes to reach the Rome Termini (the central station). The train ride costs just 1.5 Euros making it the fastest and cheapest means of transport from the airport.
The fastest and easiest way to get to the city centre from Fiumicino airport is by the Leonardo Express Train which departs from the airport after every 30 minutes. The trip takes 30 minutes and only costs € 14 for an adult while children aged 12 and below get a free ride.
There are several buses plying between the city and the airport including COTRAL, ATRAL, and SIT bus companies. Always buy a ticket for the bus leaving the airport first since your time is precious when you visit Rome for a short break. Alternatively, you can take a cab at a cost of 30 Euros including luggage fare.
Accommodations
You will obviously need to find good accommodation that is conveniently located close to the sites you intend to visit in your Rome tour. If you choose to stay in a villa when you visit Rome, there are many choices of great villas with picturesque views for your enjoyment.
Fine examples of the best villas located around Rome include the traditional Antica Posta villa near Lake Bolsena and the charming Villa Enea in the Gaeta area.
If you prefer a luxury villa, the Villa Pianicara in Viterbo and Villa Soratte in Magliano Sabina are perfect choices. Other great choices include Villa Flaminia in the Sabina area, Villa Tiberio at Sperlonga, Il Fontanaccio in Roccalvecce, and Castle San Domenico in Bolsena.
These are just a few of great luxury and traditional villas with panoramic views, swimming pools and all the necessary amenities. 
So what to do in Rome in 3 days? Here is a good plan:
First Day
When you visit Rome you can dedicate first day to the famous historical ruins and monuments. A good start, depending on where you are staying, is the Palatine Hill and the famous Roman Colosseum.
The Collosseum is actually a magnificent amphitheatre built between the years 70 and 82 AD specifically for wild animal and gladiator fights entertainment. Avoid long ticket lines to the Collosseum by buying your ticket online or acquiring a Roman pass card at a great discount.
Take time to visit the Palatine Hill museum and excavations nearby using your Colosseum ticket. Same day admission for both sites is usually 12 Euros.
You will definitely have two hours to spare for the Roman Forum which is actually a complex of temple, basilica, and arches ruins which used to be major legal and social centres in the ancient times.
At this point you can enjoy a well deserved 'gelato' refreshment snack at San Crispino close to Trevi Fountain along the Via Panetteria.
You can then spend the first afternoon of your Rome tour exploring the Pantheon which is one of the best preserved buildings in Italy. The Pantheon closes its doors at 7 P.M which is a good time to rush for sumptuous Italian dinner at Armando al Pantheon or a drink at the bubbly Piazza di Rotunda close by.
Second day
There is still so much to do in Rome in 3 days.
Start the second day by visiting the city's museums, famous neighborhoods, and try out Rome's traditional cuisines.
A good place to begin is the Campo dei Fiori market that comes alive with all sorts of vendors and their wares every morning. You can then take a walk along the famous Tiber River all the way to the interesting Trastevere neighbourhood including its Santa Maria church which is actually the first Christian church in Rome.
You can still spare time to visit the Capitoline Hill museums such as the Palazzo Nuovo and the Palazzo dei Conservatori art galleries with a single ticket of € 7.80.
In the evening, visit the Testaccio District and enjoy a sumptuous Roman cuisine dinner at the Checchino dal 1887 restaurant and if you are up to it check out the great night clubs in the Testaccio District. It's a good way to end the second day in your Rome in 3 days>tour.
Third day
If you are still wondering of what to do in Rome in 3 days now that your last day has arrived, start by visiting the St. Peter's Square and Basilica or the Vatican Museums. Keep in mind that you need to book your ticket in advance to avoid long queues.
Alternatively, you can visit the san Callisto catacombs and the Ancient Appian Way, or simply go shopping at the Piazza Navona.
While visiting the catacombs, you can have a lunch break at the Cecilia Metella restaurant close by. Spend the afternoon at the Piazza del Popolo and the main shopping street of Via del Corso. Spend the evening at the Piazza Navona enjoying tartufo ice cream while you watch the Baroque fountains.
There is never a shortage of what to do in Rome in 3 days. It is however important to plan your schedule in advance. Make advance reservations for your accommodation and book all the necessary tickets online to avoid last minute disappointments.