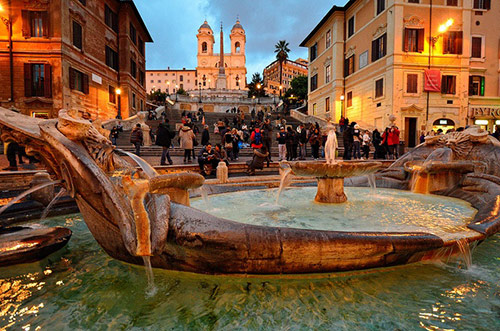 24 Feb 2014

Tour of Rome: tips, advices and food from the best Rome bloggers

Italy receives very many tourists every year mainly because it's a country steeped in history and has exacting traditions and culture. In particular, Rome, the capital of Italy, is the eternal city of the world, with its lost empires, the magnificent history, the amazing buildings and the trendy life.

As a matter of fact, there is no doubt that Rome is one of the most ancient and historic cities of Europe, if not one of the entire world. Formerly it has been the administrative capital of a world governing empire, the Roman one, and this gives it an upper hand especially when looking at tourists who are interested in learning more about world history.

The main historical attraction is for sure the Flavian Amphitheatre, better known as the Coliseum.
This theatre is very old and dates back to A.D 80 when it was commissioned by the emperor Vespasian and later completed by his successor Titus, after about 10 years of construction work since its commissioning.
The amphitheater has been an important aspect for the cultural development and statement of the Roman civilization. For this reason, it may be a great opportunity for any visitor to spend some time to visit it in order to have lessons on ancient Romans' tradition and lifestyle.
In Roma, there are many other places where you can experience history and Italian lifestyle.
They include fountains in the streets (as the Trevi Fountain) as well as great buildings and some of the notable churches and ruins. Museums are also a good way of getting a historic trip into the past of Rome, and the Vatican museums are a good start.
Your cultural holidays in Rome will not be complete until you visit the ruins, especially if you intend to dig more into the history of the city. In the Roman Forum, for example, you can fully experience the life of the ancient city of Rome. Actually, this is the place that has the most historical significance for Italy as well as the whole of Europe.
Other places that many tourists do not want to miss when on Roman holidays include the Vatican which is the headquarters of the Catholic Church in the world. St. Peter's Square and St. Peter's Basilicaoften receive many visitors especially during the special days of the Christian calendar, such as Easter holidays and during lent when Catholics from all other parts of the world come visiting to have a more spiritual experience.
For ordinary visitors who only want great places where they can sit around and relax, Rome is the perfect place. In Piazza di Spagna and Piazza Navona, for example, you will not only enjoy great art, such as amazing architectures and majestic stairways, but you can also experience nice places to sit as well as restaurants and cafes for when you want to taste real Italian Dolce Vita.
As already said, Italians, and in specific Romans, have been known around the world for their outstanding architectural designs as well as lifestyle. Talking of lifestyle, Italy stands out in many sectors particularly art, fashion and food. There are many famous blogs that can help you learn more about how life in Rome is like. Here is a useful list of the best ones.
From Amanda Ruggeri, a freelance journalist and travel writer living in Rome, you can get useful tips on some of the common activities you will be taking part once you start getting used to a life in Rome. Which is the best gelato (the Italian ice cream)? What to do in a rainy day? She will try to answer to these and many other questions. From this blog, you can also get all the finer details about restaurants, bars and street life in Rome.
Elizabeth Minchilli, founder and writer of the blog, has been traveling a lot around the world and has had a chance to settle and build a fantastic family in Rome. In this blog, you will get an overview of her Italian experiences: tips on famous Italian restaurants, recipes and issue, but also shopping, design, architecture and art. 
This is the perfect blog especially if you are looking for some new ideas for typical Italian food recipes.
"In Italy, they say all roads lead to Rome. Well, my road led to Rome…5,000 miles to be exact."
These are the words used by Andrea, owner of the blog, to describe herself and her new life in Rome. In this useful blog, she will share her experience and will give you ideas on all the particularity to organize perfect roman tour: important tips on what you can eat at restaurants and generally how to carry yourself around in the city.
A can't miss section of the blog is the "Photo blog" one, where you can find amazing photos of everyday life in Rome.
As Katie states, "the mission of this blog is to highlight great food and beverage, praise the people dedicated to feeding us well, and to get readers talking about what they are eating and drinking". All this, centered in Rome.
As a matter of fact, here you can find interesting topics and historical information about Italian foods, as well as cuisines from other parts of Europe. You will also get free city food guides to help you find the best places in which to eat when on your Roman holidays.
The Pines of Rome
The authors' days in Rome are spent showing travelers the many wonders of her adopted city and, of course, writing about them.If you are preparing for a trip to Rome and you have no idea where to start, this is the best blog to visit for great ideas and to have a first virtual tour of the eternal city. Here you will get some useful tips on Roman art, history and curiosities.
To experience fully any big city, you need to know at least few things about it, as for examples the major events and special occasions. This blog specifically offers tips and important information that can help you understand Rome better.
If you're planning holidays in Rome, Deborah can give you a lot of information about the art and events in Rome, as well as concerts and festivals reviews.
The author of the blog has decided to give up everything in order to live a life in Rome with his wife. Anyone looking for trending news about politics but mainly football should not miss this blog. Here you find latest updates on up and coming football matches that you shouldn't miss if you are a genuine Italian football fan. In the blog you can also find a very interesting list of the top 10 things to visit in Rome.
This blog has it all. Whether you want some trending news, information on Roman culture, events to look up to or any other important news and information. This is for sure a "can't miss" blog for when you're planning your vacations in Rome.
"Once Rome has a hold on you, it won't let you go". These are the words of Lauren, one of the authors of the blog.
Young in Rome's mission is to guide tourist and foreign through the chaos of the Eternal city, featuring recommendations, advice, and personal stories from Rome's expat community. Lauren, Flavia, Maddie, Rebekah and Sam dedicated this blog especially to all events taking place in and around Rome. It specifically outlines activities that attract the younger people mostly youth and teenagers.
This blog deserves a spot in the list because it gives you an atypical outlook of Rome starting with its history, the present and even the future. Tom, the owner of the blog, looks particularly at projects in Italy and their sustainability in the long-term. Thumbs up for this blog!