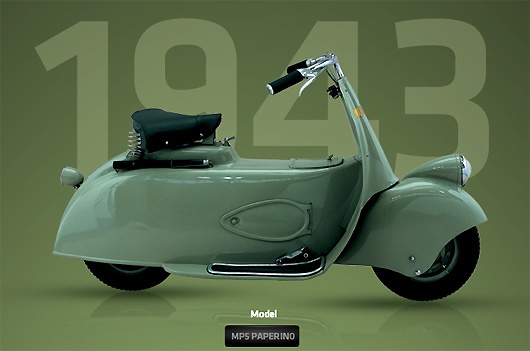 04 Apr 2013

Vespa, Italian style

First created in 1943, a "Vespa" is not simply a scooter but has become, over time, one of the most powerful symbols of "Italian lifestyle".

It followed the evolution of society in post-war Italy, becoming increasingly popular during the years of the Economic Boom and the "Dolce Vita", until it came to represent a style that encompasses some of the fundamental elements of the "Italian Way": life in the open air, energy, lightness, close contact with the beauty around us.

It is not a coincidence that the symbolic image of the film "Roman Holiday" is Audrey Hepburn and Gregory Peck sitting on a Vespa, ready to explore the beauties of the Capital.
At the end of the Second World War, Enrico Piaggio entrusted Corradino D'Ascanio with designing a simple, robust, economic yet elegant vehicle that everyone could drive easily, that wouldn't get the driver's clothes dirty and would make it possible to also take a passenger.
D'Ascanio, who didn't like motorbikes, built a totally innovative vehicle. The MP6 prototype did not even have a name when, in September 1945, it was presented to Enrico Piaggio who, noticing how wide the central part had been made in order to accommodate the driver, exclaimed: "it looks like a wasp ("vespa" in Italian)!" . The name has never changed.
In April 1946, the first 50 models left the factory in Pontedera (Tuscany) and were presented to the public for the first time at the Rome Golf Club.
It was the beginning of the adventure for the most famous scooter in the world, which you can relive by visiting the Piaggio Museum in Pontedera, in the province of Pisa.