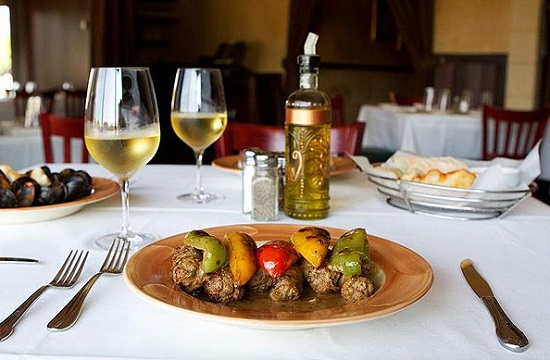 29 Aug 2014

"Volare" in Italy with Benny's Italian Recipes

If you say "Volare" you immediately think of Italy's most famous worldwide song (whose title "Nel Blu dipinto di Blu" was changed into "Volare" in Dean Martin's version). It immediately transmits the light heartedness, the fantasy, the irony that are typical of the Italian people and their way of life.

In Chicago, when you say "Volare" you immediately think of Benny Siddu's restaurants, that like the mythic 50s song, transport you to the country of the sun, with their delicious regional dishes, their rich Italian wine list (about 350 labels, one of the best in Chicago, topped only by "Benny's Chop House", Siddu's steak house, that contains 2500 labels), their interior design so full of colours, candle sticks, paintings (by famous painter Matt Lamb), give the impression of being in a typical Italian trattoria, simple and elegant at the same time, with the kitchen in plain view, the red brick oven, the Carrara marble bar.
The whole staff of "Volare" is also completely Italian, from the office to the waiters and of course the chef, Massimo Campagnani, from Bologna, specialised in dishes from his region, Emilia Romagna:
"The fusilloni with veal ragù that Massimo prepares are my favourite – says Benny – it is a veal ragù made from minced veal, prepared with porcini mushrooms and a little bit of cream, I don't know anything else, the complete recipe is a secret Massimo does not want to reveal!"
On the menu there are flavours from many different Italian regions: besides Emilia Romagna, there is Tuscany, Piemonte and of course Sardinia, Benny's native region. He was born in Villamar, a town with 8000 inhabitants, 50 km from Cagliari, in the south of Sardinia.
His was a big family of shepherds that made homemade milk every day and fresh ricotta with which his mother made ravioli with pecorino cheese and saffron according to a recipe "that ten years ago she came to teach the chefs of my restaurant. They are still on the menu together with other typical dishes of hers, like her meat balls and her stuffed chicken."
 "We make daily efforts to bring the quality and authenticity of the Italian cuisine to the tables of our customers – tells Benny –  using products that arrive fresh every day and preparing original dishes like Osso Buco with Milanese risotto, sea bass with salt, the ribollita (the typical 'poor' soup of peasant origins, made with hard bread and vegetables, a tradition in some areas of Tuscany) or the aubergine rolls with a sheep ricotta filling, that arrives from Sardinia every Wednesday."
The roulades have been selected as best dish of the restaurant by a much followed local television program, that shows Chicago's best restaurants.
The town where Siddu was born, Villamar, is on the road that leads to Sassari in the north of Sardinia and to Oristano in the west, near Barumini, "one of the biggest and most important nuraghi sites we have in Sardinia" (the nuragic civilization goes from the Bronze age, about 1700 B.C. to the II century A.D. in full Roman Age).
On that very road, Benny's uncle and aunt had an inn where travellers used to stop: Benny's first job was to "help my uncle and aunt wash the glasses" he tells. That is where I started to move my first steps in the world of touristic welcoming and restoration that then lead him to work in Tuscany, in England and around the world on cruise ships. Until he arrived in Chicago where Benny opened his two "Volare" restaurants, 17 years ago.
22 people work in the kitchen and there are an average of 400–500 customers a day, that go up to 700–800 in the weekends. And every time there is someone that starts fantasising about a trip to Italy after a good meal and asks advice on where he could go. This is how the collaboration with Ville in Italia came about, Benny explains.
"We've put a flyer on each table that shows beautiful Italian villas that are the perfect place in which to organise holiday plans with cooking courses: comfortable and ample homes that can host large numbers of  tourists who follow famous chefs giving cooking lessons for a few days. A holiday that is much appreciated and enables people to get to know Italy in its most uncontaminated places."