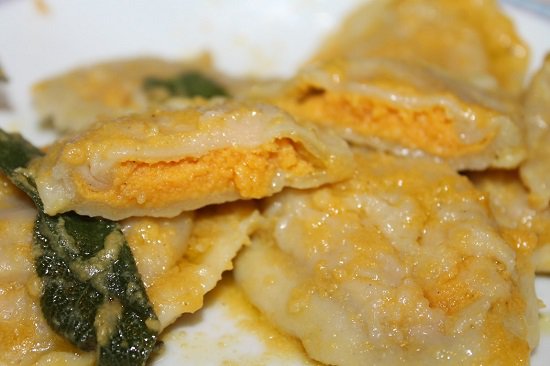 24 Oct 2014

Top 7 Fall Foods in Italy

In Italy, food choices are often made based on regional and seasonal factors. Eating seasonal isn't a trend here; rather, it's been a normal part of life for generations.

For example, the hunting of cinghiale, or wild boars, begins in November, so at this time you will find such dishes as cinghiale alla cacciatora, a slow sautée of carrots, onions, celery, and spices.
Fall is certainly a wonderful time to sample such specialities as various white truffle recipes, chestnut flour cake, and other wonderful foods you'd probably miss during the rest of the year in Italy.
Italy is known for its high-quality, delicious wild mushrooms, which are prized and used in a wide variety of dishes throughout the year. Many Italians in various regions enjoy the pastime of hunting for wild mushrooms in the fall, either to cook for themselves or to sell.
During your travels, you might even happen upon a local mushroom festival! Of course, truffles are very popular in Italy. Truffle, or tartufo, season in Italy goes throughout the fall and winter for black truffles. White truffle season lasts only until December.
Since Italian foods hunted and harvested during autumn are at their best at that time of year, it makes sense to sample them while they are at their peak. During a fall visit to Italy, the following dishes come highly recommended:
1.Porcini Mushroom Risotto
Porcini, otherwise known as boletus mushrooms, grow during the chilly fall in the hill regions of northern and central Italy. Due to their tenderness, meaty texture, and melt-in-your-mouth flavor, they make a wonderful fall risotto.
This simple pasta dish with butter and parmigiano is worth trying for the burst of flavor achieved by the addition of only a small amount of white truffle shavings.
3.White Truffle Fried Eggs
Eggs are gently fried in butter and then topped with shavings of white truffle, perhaps served with crispy bread.
4.Black Truffle Risotto
The less-expensive black truffle is a fragrant and flavorful component of this risotto dish often made with white wine, garlic and shallots, and pecorino or parmigiano cheese. Black truffle shavings may be added as a garnish.
5.Chestnut Pasta with Pesto
This pasta is made with chestnut flour and served with a traditional basil-garlic pesto.
6.Castagnaccio
This popular dense cake made with chestnut flour is commonly made in Tuscany andUmbria, but it can be found in several other regions as well.
7.Ravioli with Pumpkin
Pumpkin ravioli is made by filling ravioli with a pumpkin-cheese mixture, then topping with a sauce of browned butter and fresh sage.
Looking forward to eating your way through a fall visit to Italy?
Enjoy this beautiful time of year by tasting some of these delicious seasonal specialties. Be sure to check out these fantastic villas in the truffle region for your tasteful trip to Italy!