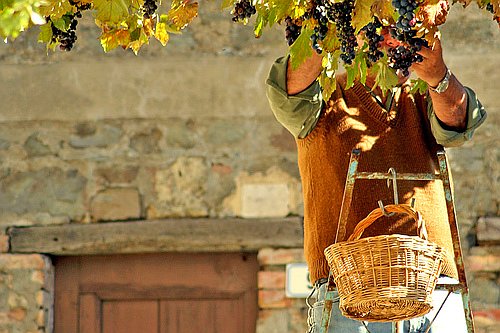 14 Feb 2014

Flavors of Italy: Top 15 Italian Wine's Blogs

The success of the Italian wine industry is born on the back of their ancestry, which is rooted in over 2,000 years of wine making excellence. The climate found in Italy is deemed to be perfect for the production of wine; from Sardinian wine to the famous Tuscany wine.

There has always been one driving force behind making wine for Italians; to partner their fine cuisine with an enriching taste while not taking away from the food. There are 20 wine regions, each with its own climatic characteristics that fuse with the wines made there.

Appellation System
In 1963, a classification system was introduced in Italy. In the system, there are four distinct classes of wine: Vini, Vini Varietali, Vini IGP and Vini DOP ("Vini" meaning wine).
Vini: A generic type of wine with no indication of vintage, geographical origins or grapes used within the EU region.
Vini Varietali: Wines produced with at least 85% of one or two of the international grapes; Syrah, Chardonnay, Sauvignon Blanc, Merlot, Cabernet Sauvignon, Cabernet Franc. Vintage and grape(s) used will be present on the label.
Vini IGP: These wines are region-specific wines that comply with strict regulations in the Italian wine industry including cultural and labeling practices. Since the area that the grapes are grown factor into the quality of wine, the Vini IGP wines are usually of high quality.
Vini DOP: There are two sub-categories within Vini DOP wines; Vini DOC and Vini DOGC. Basically, the finest IGP wines can become Vini DOC if they have been an IGP wine for a minimum of five years. Similarly, Vini DOC can become Vini DOGC after 10 years. Both undergo stricter regulations
surrounding quality and traditional methods of production than Vini IGP.
The main difference between red and white wine is the fermentation process; even white wine can be made with red grapes. The skins of the grapes are separated from the juice early in the process to make white wine whereas red wine is fermented with the skins.
Most of the Italian red wine made in Italy is made from the following grapes: Nebbiolo, Sangiovese, Lambrusco, Amarone, Valpolicella, Brunello, Negroamaro, and Montepulciano.
Among the most common white wine grapes used in Italy are Fiano, Arneis, Cortese, Pinot Grigio, Trebbiano, Cortese, Moscato and Verdicchio.
We have gathered a collection of outstanding wine blogs to get a 'taste' of wine culture in Italy.
Alfonso Cevola, the author of the blog, is a wine taster and seller, and shares his passion on his blog. Cevola was given the coveted Vinitaly International Award for his promotion of Italian wine across the world.
The author, Joanie Karapetian, admits to leading a charmed life in Italy. Her posts are intimate and personal, describing the experiences she has with each wine and the extraordinary people she meets.
Sarah Newton was backed by a team of investors to travel to Rome and write about all the famous wines such as Chianti and Barolo. The blog is practical and very informative to a starting wine enthusiast to a seasoned wine taster.
From wine tours to famous restaurants in Campania, readers are treated to a behind the scenes look at how it all comes together. Karen Phillips takes an in-depth, romantic look at Italian cuisine and wine.
La stanza del vino (The room of wine)
Stories of wine, stories of people: the wine lover and journalist, Michelangelo Tagliente, offers a unique view for the readers of his blog. He combines historic insights into the wines and provides an educated gastronomic view of the Italian cuisine and wine.
A published photographer and author, Tom Hyland – with his amazing words and pictures – takes an intimate look at the people behind the Italian wine industry while sampling some of the best wines in the world, such as Prosecco.
A wine-focused blog, Vintrospective allows its readers to think, talk and live Italian wine. Informative as well as objective, Joel Mack ties Italian culture to the mysteries that lie in its wine.
This blog can be considered an "Italian Wine News Site" with practical information. The author, Luciano Pignataro, is a graduated journalist who received the Best Italian Journalist award in 2008.
Le mille bolle blog (Thousand of bubbles blog)
Franco Ziliani offers his readers a detailed look at the most famous sparkling wines (and not only), giving several advises and a concise description of each wine he has sampled. In the blog you can find very interesting sections, which can explain in a very detailed way the production process and the history of italian wine. Almost every sparkling wine has been rated (such as Moscato d'Asti, Champagne, Franciacorta) and he only recommends the cream of the crop.
The author behind this blog, Susannah Gold, is a certified Italian sommelier. The name of the blog means to raise one's empty glass in preparation for fine wine, and fine wine is what it's all about.
Percorsi di Vino (Wine Routes)
Andrea Petrini created this blog that delves into the finer intricacies of wine in Italy, most appreciated by a seasoned wine enthusiast.
Based on the personal experiences of the writer, Jacopo Cossater, his believes and discoveries are shared in a historical way. Being Italian, he takes pride in his heritage and showcases the best wines Italy has to offer.
As a sommelier, the author Andrea Della Casa gives a very Italian and personal account of his educated views on the art of wine making and tasting.
This Italian blog is aimed more at wine makers around Italy and gives leading news around the industry. Written primarily by Massimiliano Montes, the site also reviews wines as well as restaurants.
Alessandro Farina, the sommelier and writer behind this blog, gives insightful views as he discovers the world of Italian wine.