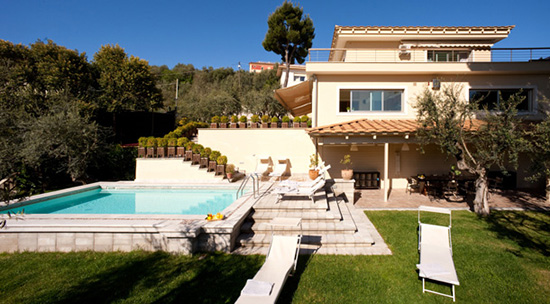 24 Dec 2014

3 Ideal baby-moon destinations

Of all the things to plan when a baby is on the way, the babymoon might be the most fun. Consider a pampering, luxurious holiday in Italy before baby arrives to reconnect with your partner and relax. Family is an extraordinarily important part of Italian life, and pregnant women are treated like queens wherever they go! It's the perfect place to start creating brand new family memories.

Here are three villas perfect for a pregnancy getaway:
Enjoy the serene sound of the ocean lapping on the beach and the privacy of your own pool and veranda at Arus in Sicily. Located very close to the beach, walks in the sand are perfect for letting go of all the anxiety with a baby on the way.
The gorgeous pool offers the perfect opportunity for Mommies-to-be to float away any extra stress on their joints, and the two-bedroom, two-bathroom home offers just enough space to reconnect without bumping into each other constantly!
Just outside the town of Fano, on the Adriatic Coast, lies a very special villa just waiting to accommodate you on your Italian babymoon. Villa Emilia is on a sloping hillside with a unique bioenergetics-designed garden, where 21 different points in the garden have been designated as therapeutic because of the plants there.
In addition to the healing garden, the villa is located close to the town center that's full of shopping and delicious local cuisine – perfect for those pregnancy cravings! After a stay at Villa Emilia, you'll be rested and rejuvenated just in time to welcome a healthy, beautiful addition to your family.
If a pampering holiday is what you're after, look no further than Villa Anonella on the Amalfi Coast. Between the fresh sea breeze rustling through the modern, open floor plan to the incredible private Jacuzzi, there's no denying the tranquility and luxury of the villa.
The location offers spectacular views and plenty of privacy for you and your partner on this special trip. Also, there's a gourmet kitchen to take advantage of fresh local ingredients, and plenty of sun-drenched patio furniture to recline and relax on. In addition to the welcome basket you'll receive when you first arrive, a private chef can be arranged to create beautiful meals for you without you worrying about groceries or clean up! A private pool is also on the premises for you to kick your heels up and float serenely.
As with all Ville in Italia rentals, special spa services like prenatal or couples massages can be arranged, as well as luxury transportation and specialized local tours. Child care can also be arranged for those who have already started their family. Pregnancy is a very special time for a family – take some time out for yourself and your partner to prepare for the upcoming blessing by treating yourself to a luxurious Italian babymoon. It will be just one of the many wonderful memories you create with your child.